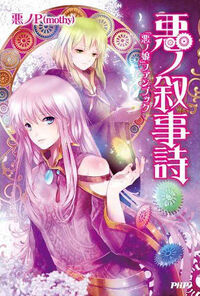 Epic of Evil, The Daughter of Evil Fanbook (悪ノ叙事詩 悪ノ娘ファンブック), is the sixth Story of Evil novel, released on August 25, 2012. It contains two short stories: The Daughter of Fog, and Her Reason, promotional illustrations, an account regarding Yukina's travels, popularity poll results, and detailed information on what happened to the characters after The Daughter of Evil, Praefatio of Blue. The novel can be bought here.
Popularity Poll Results
Edit
2. Clarith
5. Kyle Marlon
6. Gumillia
8. Ney Futapie
9. Gast Venom
10. Gallerian Marlon
11. Yukina Freesis
13. Michaela
14. Liliane Mouchet
15. Keel Freesis
15. Ein
19. Mariam Futapie
19. Aile Freesis
19. Prim Marlon
19. Arkatoir Marlon
19. Banica Conchita
19. Ma
26. Abyss I.R.
26. Shaw Freesis
26. Mikina Freesis
26. Eve Moonlit
26. Trauben Fruit
Community content is available under
CC-BY-SA
unless otherwise noted.