Jurassic World: Dominion Dominates Fandom Wikis - The Loop
Play Sound
Irina Clockworker
Japanese Name
イリーナ゠クロックワーカー (Iriina Kurokkuwaakaa)
Also Known as:
I.R. (During Venomania Event)


Abyss I.R. (During Story of Evil)
Julia Abelard (During Toragay Serial Killings)
I. Santa (Pere Noel codename)

Debut

Recollective Musicbox

Vocaloid
Gender
Female
Classification
Ghoul Child
Birth Date
BT 004
Age
Unknown (immortal)
Occupation/Job
Sorceress
Vessel of Sin

Venom Sword

(During Venomania Event)


Glass of Conchita (During Story of Evil)
Four Mirrors of Lucifenia (During Story of Evil)
Clockworker's Doll (During Story of Evil)
Marlon Spoon (During Story of Evil)


Affiliation(s):

Levianta

(Originally)


Lioness(formerly)
Marlon (During Story of Evil)
Lucifenia(After Story of Evil) Père Noël (After Story of Evil)

Family

Kirill Clockworker (brother)
Elluka Clockworker (sister-in-law)
Irina Clockworker is a sorceress from the Magic Kingdom Levianta and the central antagonist behind many events in the Evillious Chronicles. She is directly responsible for the Venomania Event and Story of Evil and is the founder of Pere Noel.
History
[
]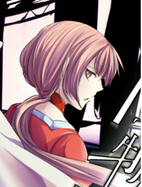 Early Life
[
]
Originally Queen Maria Moonlit, In BT 004 the scientis Seth Twiright created Irina as the twelth Ghoul child. She was then adopted as Kiril Clockworker's sister, living in the city of Lighwatch.
In EC 013, Irina, was selected as a potential candidate for Project "Ma", which would have allowed her to rule the Magic Kingdom Levianta. One of the other candidates was her sister-in-law, Elluka Clockworker. The competition sparked a feud between the two and led to Irina killing Elluka.
Venomania Event
[
]
Referring to herself as "I.R.", Irina found and possessed Haru Netsuma. Around EC 136, she met Cherubim, the estranged son of Duke Venomania, and offered him the Venom Sword. After using the weapon to kill his family and stealing his brother's identity, Irina smiled as she watched "Duke Sateriajis Venomania" seal a contract with the Demon of Lust so that he could use its magic to seduce women.
In April of EC 136, I.R. arrived and greeted Sateriajis, telling him to assist her in a task. After Sateriajis intially refused, the sorceress reminded him that she would take back the sword should he renege on their deal, convincing Venomania to change his mind and assist her. Leaving her possessed vessel in the care of Mikulia Greonio, one of Venomania's victims, Irina traveled with Venomania, on his person, across Asmodean. After arriving at the Misty Mountains, Irina climbed from inside Venomania's cloak to his shoulder and later explained to him what was necessary to enter the tomb before them.
Once they arrived, Venomana discovered a stone coffin filled with treasure, including a spoon, what I.R. had come to retrieve. When asked if it was another vessel of sin, the cat familiar denied it, stating it was actually a magical artifact made by her father. Disappointed, Venomania tossed the weapon, shocking the sorceress who leapt off his shoulder to go after the artifact. After a short discussion, she returned to his shoulder and protested staying the night in Earl Ferdinand's mansion as the nobleman was one of people investigating the rumored disappearances of women; Sateriajis simply replied that was the reason to stay there.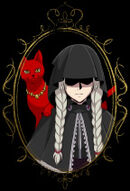 During the time in the mansion, Irina took possession of the Earl's wife and discovered his obsession toward Meilis Beelzenia, examining herself in a mirror, intriguing Venomania. Irina meandered until she discovered a precariously open door in the hall. Lighting the entrance with her candle, she discovered the corpses of Ferdinand and his servants, slaughtered by Sateriajis. At some point she discarded her vessel and traveled the halls, seeing a distressed ?Rajih run by. She paid it little notice and continued on until she reached the estate's walls, sitting atop one side and recalling Cherubim's past.
Later on, she returned and found Venomania in the corridors, leaping back upon his shoulder before departing from the mansion. While on the road, she questioned his decision to leave the man, Rajih, alive. After returning to the mansion, I.R. retrieved her vessel, Haru, and remained for a time in his mansion. At some point, she departed.
Story of Evil
[
]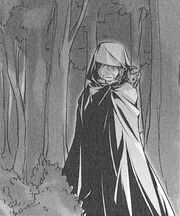 Sometime before EC 482, Irina adopted the pseudonym "Abyss I.R." and befriended Prim Marlon, promising to help the Queen Dowager of the Kingdom of Marlon carry out her plans in return for one of her children. After giving Prim the Venom Sword to seduce King Arth of the Kingdom of Lucifenia, Irina  used the child born from the engagement, Ney Marlon, as a guinea pig for her experiments, eroding Ney's psyche. Later on, Prim forced Mikina Freesis to work for the sorceress. Using the Glass of Conchita, Irina caused an epidemic of the Goula disease, wreaking havoc in Beelzenia which later spread to the Kingdom of Lucifenia and successfully infected and later killed King Arth.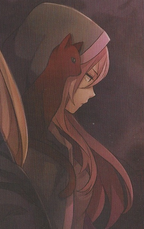 In EC 491, Irina collaborated with Prim's brother, Presi Rogzé, in an attempt to control Prince Alexiel and herald the downfall of the Lucifenian Royal Family. The sorceress buried one of the Four Mirrors of Lucifenia inside a black box on the beached shores of Lucifenia. From the Forest of Bewilderment, Irina watched as both twins, Riliane and Alexiel, unwittingly dug up the box and looked at the mirror. Using the mirror as a portal, Irina conjured the Demon of Gluttony from the vessel of Vanity and chase the wins. After the plan's failure and Presi's death, Irina listened to Ney's report on the matter, concerning Riliane being possessed and Presi's failure to defeat Elluka due to Mariam Futapie's intervention. Irina ordered Ney to infiltrate the Lucifenian palace, determining she would use the Glass of Conchita to create another epidemic
of the Goula Disease and kill Queen Anne.
In EC 503, Irina stole Elluka's body and took up residence in Marlon, continuing to serve Prim. When Gumillia confronted Irina, Elluka stole her body back from Irina, forcing her back into her original form: the red cat.
Irina then possessed Mikina, stole the vessels of sin, and fled to Lucifenia. When Germaine Avadonia and Yukina Freesis tracked her down, Irina let Mikina confess what she had done as a sort of amusement. Irina then trapped Yukina inside a fiery prison using the Marlon Spoon. Riliane attempted to sneak up on Irina and steal the Spoon, while Germaine attacked Irina's red cat familiar. Irina attempted to use the Glass of Conchita on Riliane but failed, due to a supposed betrayal of the Demon of Gluttony and Ney's influence. With the red cat killed and Mikina released, Irina's spirit went undercover for a while. It was revealed that Irina took possesion of Germaine's body some time later.
Père Noël 
[
]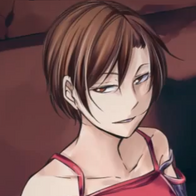 Around EC 609, Irina formed the criminal organization known as Pere Noel, adopting the pseudonym "Julia Abelard" with the codename I. Santa. She recruited many others, notably Lemy Abelard (the recent reincarnation of Hansel) and Margarita Blankenheim, whom Irina later gives the Clockworker's Doll to. Elluka and Gumillia infiltrated Pere Noel in hopes of retrieving more of the vessels but were foiled by Lemy. Gumillia assassinated Lemy while remaining undetected.
At some point, she recombined with Elluka to form Ma.
Character Traits
[
]
Personality
[
]
Irina is a deceitful and manipulative woman. She often is shown using the vices and weakness of the people around her. She has shown a sadistic behavior when she allowed to Mikina confess to Yukina, just for torture to the mother and her daughter.
Skills
[
]
Irina is a powerful sorceress and regarded with fear by her enemies. Her power as a witch was great enough that she was selected as a candidate to rule Divine Levianta, and was able to attain the position as Marlon's court mage. After her original "death", her spirit inhabited a stuff cat and was comfortable enough to use the familiar easily. Her most utilized ability is her Body Steal technique, allowing her spirit to possess a person's body and use it as a medium, interacting with people and objects they way a normal human can. Like a ragdoll, the medium can easily be released from her control at any time and Irina easily leaves and repossesses the vessel without much effort. The medium's expressions and reactions mirror her own (as the cat) and it is implied she must be nearby to maintain the technique, always keeping her cat body near the intended vessel at all times.
Another one of her techniques is the ability to directly inhabit a person's body, different from her Body Steal, which allows her soul to enter and control the person's body, using it as her own. The technique seems to force out the soul of it's owner, pushing out Elluka from her body when the technique was used against her. It also seems to inherit a degree of immortality, inhabiting Germaine without any noticeable aging for over a century.
Irina was also skilled at clockworking, creating the human-sized Clockworker's Doll so it could be the vessel of Sloth. She also is very knowledgable about the vessels of sin, easily acquiring and using them to their full capacity. Irina is also an expert at manipulation, taking advantage of people's desires, such as Sateriajis and Prim, to cause the epitomes of sin.
Appearance
[
]
The appearance of Irina's original human form is yet to be revealed. As a spirit, she appeared as a red Abyssinian cat with a jeweled necklace around her neck.
Because of her Body Steal Technique, the red cat always appeared alongside the body she was currently possessing. It is also worth noting that the person seen with her has red cat eyes, and the possessed person mimics Irina's expressions.
When by herself, Irina makes cat noises from time to time.
Featured in...
[
]
Recollective Musicbox (EC 013)
[
]
Recollective Musicbox details the conflict between Irina and Elluka.
Twiright Prank (EC 491)
[
]
Although Abyss I.R. was never mentioned in Twiright Prank, she was the responsible of the events that occurred in the song. She was the one who sent the Demon of Gluttony in pursuit of the children. The black box mentioned in that song contained one of the Mirrors of Lucifenia, which was used to unleash the demon upon the kids.
Handbeat Clocktower (EC 505)
[
]
Irina makes a cameo in Handbeat Clocktower. She is using in Elluka's body during this time.
Gift from the Princess who Brought Sleep (EC 609)
[
]
Irina, in her role as Julia Abelard, makes a cameo in Gift from the Princess who Brought Sleep as the person who taught Margarita how to prepare her deadly concoction. She appears briefly as a cloaked woman with red nail varnish.
The Fifth: Pierrot (EC 610)
[
]
Irina makes a brief cameo in The Fifth: Pierrot, appearing in her silhouette as Julia Abelard during the musical intermission that shows the Pere Noel's members and presenting her number and codename as I. Santa. At the end of the PV, a letter addressed to Elluka appears.
Connections with Other Characters
[
]
Maria Moonlit: Irina's first incarnation.
Kiril Clockworker: Irina's brother.
Elluka Clockworker: Irina's sister-in-law and nemesis after Recollective Musicbox. Thinking she was the real Elluka, Irina swore vengeance on her for being the cause of the Leviantan Catastrophe.
Elluka Chirclatia: Irina's true sister-in-law. Though jealous of Elluka, she felt remorse for killing her.
Sateriajis Venomania: Irina was the devil that gave him the Venom Sword and its powers in exchange for his service.
Prim Marlon: Irina becomes a close friend of Prim and her court mage for a while until Prim's downfall.
Ney Futapie: Irina's test subject while working with Marlon's intelligence network.
Lemy Abelard: Irina's adopted son and member of Pere Noel (V. Pierrot).
Margarita Blankenheim: A close friend of Irina and member of Pere Noel (III. Princess of Sleep).
Trivia
[
]
Conceptualization and Origin
[
]
The name Irina comes from the Greek word Irini, which means "peace". Her pseudonym "Abyss I.R." may be a reference to the Abyssianian, a breed of cat that commonly has red fur. It also contains the first two letters of her real name.
Her pseudonym Julia Abelard also has a lot of references that link her with the figure Santa Claus, starting with her codename: I. Santa. Another one is that Irina gave Margarita a "gift". Continuing this, Irina is represented by the Vocaloid Meiko, who is characterized by red clothing just like Santa Claus. Finally, the name of her criminal organization comes from Père Noël, which is french for 'Santa Claus'.
Curiosities
[
]
Irina is represented by the Vocaloid Iroha Nekomura. After possessing Elluka Clockworker, she was represented by Megurine Luka.
Gallery
[
]